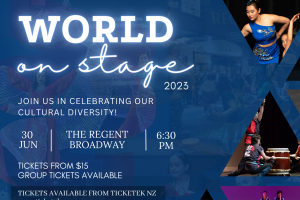 MMC to celebrate its biggest event WORLD ON STAGE on 30 June 2023
Manawatu Multicultural Council (MMC) will celebrate its WORLD ON STAGE 2023, on Friday 30th June 2023 at 6:30PM, at the Regent on Broadway, the grand theatre in Palmerston North.
The World on Stage 2023 will celebrate the wonderful diverse cultures of Palmerston North city through music, storytelling, dance, and song. As MMC celebrates its 30th Anniversary in 2023, the event will present the effervescent, colourful, and vibrant show – as we embrace our WORLD at the grand Regent theatre on Broadway.
The World on Stage 2023 will follow a story of a young girl in search of answers about her heritage and ancestry. Her journey through the different continents will be shown and performances from various parts of the world will be screened on the night. The whole programme has been written and will be directed by Phil Anstis, an actor, director and motion capture performer.
Though the stage programme starts at 6:30 pm, there will be street performances beginning at 6.00pm as well as cultural displays at the Regent's balcony. At around 9PM, World on Stage will finish on the street with the dynamic rhythms of Brazilian inspired Samba Ao Vento – a time for all the guests to dance!
Please find below additional information about this spectacular event:
Box office will open on the event night at 5:30PM
Street performances will begin at 6PM.
There will be cultural displays on the upstairs balcony (above the foyer)
Doors to the auditorium will open at 6PM
The show will begin at 6:30PM
World on Stage are encouraging all classes of people living in Palmerston North and surrounding areas to think about their heritage and come to the concert wearing clothing to express that.
This multicultural event is brought to you by the Manawatu Multicultural Council (MMC), supported by the Palmerston North City Council (PNCC), Pub Charity Ltd and Ministry for Ethnic Communities.
Tickets of the event are now available at Ticketek: https://premier.ticketek.co.nz/shows/show.aspx?sh=WORLDSTA23.
So, don't miss out! Buy your tickets now - and arrive early as there may be queues on the day!!